Akhmim | Ankh |
The town of Akhmim stands on the ruins of the ancient town of Ipu, dedicated to the fertility god Min.
This town was the capital of the 9th Upper Egyptian nome, and was occupied from prehistoric times through to the end of pharaonic history.
It was once home to an immense temple complex dediated to Min, supposedly larger than the complex of Amun at Karnak.
When Akhmim became the center of Christianity in Upper Egypt, the church of Anu-Shenouda was built on top of this complex.
Akhmim
Recent excavations are beginning to uncover fascinating glimpses of the remains of Ipu.
An 11 meter-high statue of Queen Meritamun, daughter and consort of Ramesses II, was discovered here in 1981, along with talatat blocks from the reign of Akhenaten and fragments of other statues.
Excavations began here again in 1991, and have uncovered more traces of the Min temple built by Ramesses, including parts of several colossal statues of Ramesses II.
Meritamun
Meritamun lived about 2000 years ago and was about 18-25 when she died. She was also very fond of honey or sugar, due to the tooth decay found on her skull, and suffered from anemia which may have been the cause of her death.
Nowadays, with modern techniques and technology, it's easy reconstruct the faces of the historical people, such as Meritamun,  based on portraits and skeletal remains. In fact they already reconstructed the face of Meritamun.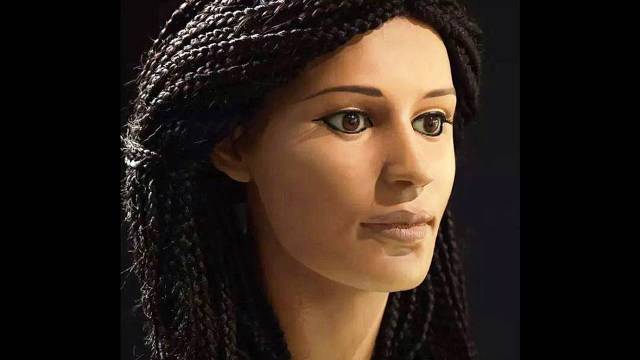 Akhmim Location and Directions
Downtown Akhmin, east bank of Nile near Sohag
BY BUS: A microbus runs from Sohag to Akhmim
BY TAXI: ask for "mintaqat Akhmim" for the town an "timsaal meret amun" for the statue.
Meritamun Ticket Price
HOURS OF OPERATION: Open daily, 9 AM – 5 PM
TICKET COST:
Egyptian: 10 LE
Foreign: 50 LE
Student rates available to bearers of a valid student ID from an Egyptian university or an International Student ID Card (ISIC)